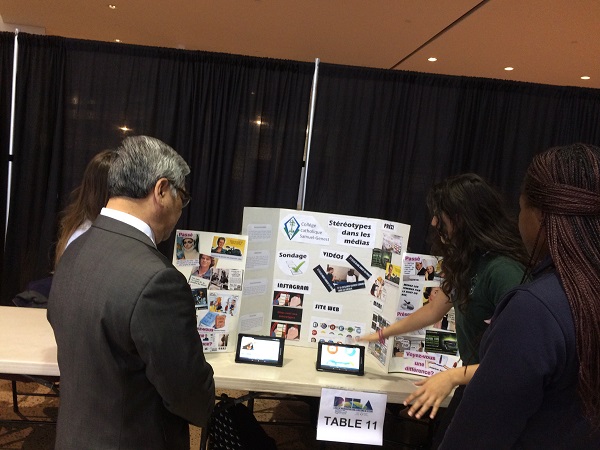 By Jean-François Bertrand
Students from Collège Catholique Samuel-Genest presented their project to raise awareness about stereotypes in media at the semi-annual Youth Action Showcase. Photo courtesy of Jean-François Bertrand.
For over half of grade 10 students in Ottawa's French and English school boards, the "Active Citizenship" stream of CHV20, the one that deals with civic engagement, is a hands-on experience.
The program is called DILA, for "A Day of Information for a Lifetime of Action" and is created and run by Youth Ottawa, a non-profit organization with the goal of empowering and engaging young people for positive change.
Concretely, the program is eight periods over as many weeks, where a youth facilitator from Youth Ottawa helps each class choose an issue that's important and meaningful for the students, guides them in developing an action plan, which will then be implemented. The eight lesson plans of the program were created by an educator and they all have a direct link to the curriculum's overall and specific expectations. The program also includes five summative assessments that teachers can use or draw inspiration from. The Ontario Trillium Foundation funds this program, which is about to be rebranded.
"My students learned the whole process and discovered what it means to be an involved citizen," says Julie Bélanger, a 15-year veteran social sciences teacher at Collège catholique Samuel-Genest, who experienced the Youth Ottawa program for the first time last fall.
Cynthia St. Jean, one of the youth facilitators, is most impressed by the level of the buy-in from the students. "They have passion, dedication. They're taken seriously, we listen to what they have to say," she says, adding "there's a spark in the eyes."
For Virginie Rouhana, one of Julie Bélanger's students, that spark was in finding an issue that her class had at heart and in the team work that was required. Virginie then ticked off the essential skills that she developed during the eight weeks of the program: oral communication, data analysis, finding information, problem solving…
Last fall, Samuel-Genest's four civics sections took part in the program and the students created projects to address the school uniform, discrimination, and racism. Virginie's class dealt with stereotypes in the media.
After exploring the root causes of their issue, stakeholders and deciders, the class was split in groups, each of which had to use one of the "civic tactics", such as petitions, surveys, or public service announcements. Virginie's class created a web site and used social media to raise their peers' awareness of the issue.
At the end of each semester, but not so late that it's too close to exams, Youth Ottawa sets up at City Hall their "Youth Action Showcase', where students from every DILA class present their project. In attendance last fall, one could find the mayor, a few councillors, a senator. "But not only dignitaries," recalls teacher Julie Bélanger. "There were also community leaders and activists." They were there to help the students, as were other experts such as social media marketers, to fine tune their project or take it further.
"The students felt they were heard, it was magical," remembers the teacher. Virginie, her student, says that it was very nice to see how experts, leaders and activists took her project seriously. She left City Hall that day with her head full of ideas and a handful of business cards.
Hélène Boulet, program coordinator at Youth Ottawa, explains that DILA's success is linked to the students' experiences, in the assessment tools and in a good working relationship with teachers. "The first goal, when the program was created in 2013, was always to create an interesting experience for the students," says Hélène Boulet.
They recognized early that the process of creating change was more important than the end results. The program's creator, Jason Collard, completed graduate studies in civic engagement. He stated that the understanding the process had much more long-term effects in youth. The American Generation Citizen inspired the program for civic engagement.
Jean-François Bertrand teaches at Collège catholique Samuel-Genest in Ottawa.