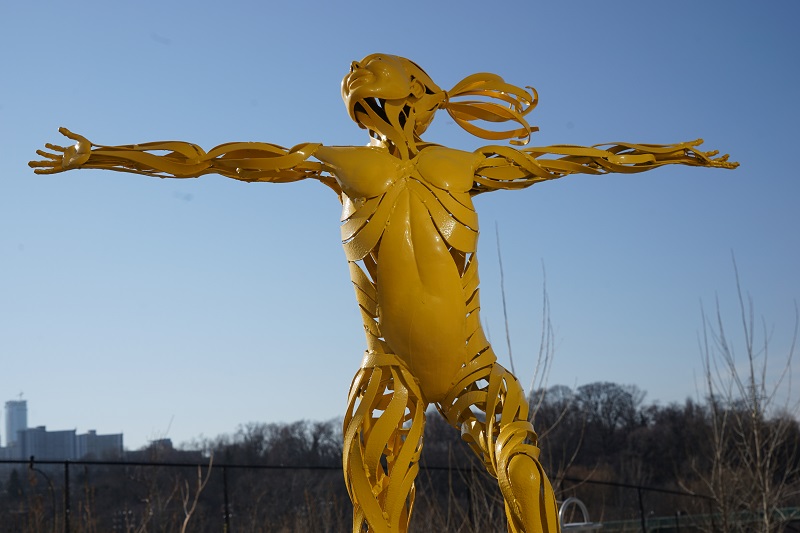 By Risa Gluskin
Detail from William Lishman Sculpture Garden, Bridgepoint Active Healthcare, Toronto. Photo courtesy of Val Dodge from April, 2016.
It's April 14th and the snow is falling. Regardless, the last quarter of the school year is in progress. We all know how fast it will move!
I wanted to take this opportunity to ask for your input (comments and contributions). I'm aiming to include more posts on social science related topics. However, I'm having a tough time getting writers on the subject. If you're teaching social sciences and are willing to write, please contact me. If you have students or student teachers who'd like to write, please have them contact me.
In upcoming posts I'll be examining the topic of instructional leaders/consultants and learning coaches. In my very preliminary research – and to my surprise – I've found that there are some school boards that still have subject-specific instructional leaders or consultants. It's a surprise to me because my board (Toronto), which used to have them for geography and civics, history, family studies, and K-8 social studies, switched to a non-subject-specific learning coach model a few years ago.
Though I admit I am curious as to the rationale for the cutting of subject-specific positions, I am respectful of the incredible work that some coaches are doing. I hope to profile some of these people in the upcoming months. I'm also going to report on a new development in my board where there is a pilot program that combines subject-specific coaching with classroom teaching in a hybrid-demonstration classroom type situation.
If you're a learning coach or instructional leader in Ontario, please feel free to contact me so that I can learn more about the different models across the province and can report on them.
Risa