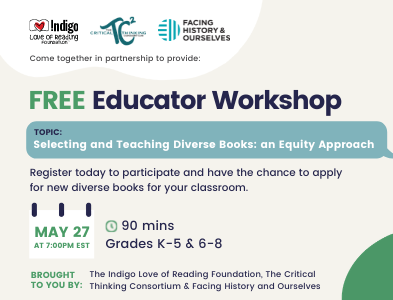 What are the most powerful steps we can take in selecting and teaching diverse texts for our classrooms? How can we employ an equity lens in both the selection process and the teaching of texts?
Please join us for a workshop in which we will provide tools and resources for enhancing the quality of the ecosystem of books in your classrooms and the learning opportunities you create for your students.

Facing History and Ourselves, The Indigo Love of Reading Foundation, and The Critical Thinking Consortium come together for the first time to offer this exciting learning opportunity for educators across Canada.
This workshop is for Elementary and Middle School educators (K-8). There will be age specific breakout sessions for elementary and middle school teachers.
Participation in this workshop will unlock the opportunity to apply for new diverse classroom resources through the Indigo Love of Reading Foundation for the 2021-2022 school year.
This workshop will take place on Zoom.To register, go to: https://www.facinghistory.org/calendar/w2021on9-texts-transformation-equity-approach-selecting-and-teaching-diverse-resources-your