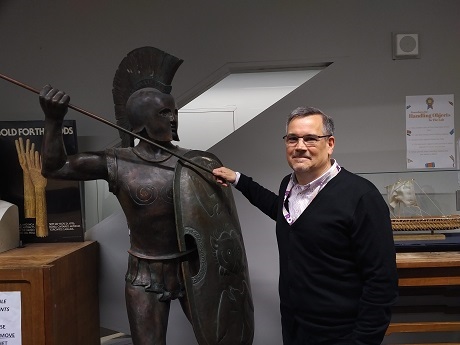 DOING HISTORY: Interviews with people working in history but not necessarily as history teachers. Please share with your students.
How did you come to be a bilingual teacher at the ROM? What's your educational background?
I was hired in 1992 on a full-time temporary contract. At the time, they were looking for a bilingual, English and French, history teacher who would deliver school visits programs for both elementary and secondary students. I was also given the task to develop a travelling school kit on Ancient Greece & Rome. The following year, a colleague retired and I was hired in her position as a full time permanent. Before working at the ROM, I taught Canadian history and French in Montréal. Prior to teaching, I studied history and received my teaching certificate at Université de Sherbrooke. After six years in the school system, I decided to pursue a graduate degree in Museum Studies at U of T, specializing in Museum Education followed with more studies in museology at the École Nationale du Patrimoine in France.
You must see so many classes at the museum. What's something that strikes you as new amongst students' skills/interests?
In the 25 years I have been at the museum, I have seen thousands of students. Learning remains basically the same. The tools might be different from my early years at the ROM however I don't see a fundamental change in how people learn. The challenge when teaching history is always to balance content and process so students feel equipped with the information they need and the thinking skills which are so important for inquiry-based learning. I find this method more engaging for the students, more interesting for me to teach and probably has more lasting effects on the students. I wish I had more exposure to these methods when I was a student. I find students on average to be more worldly aware than in the past. There is a sense that they learn from each other. The diversity is greater and their awareness of the world around them is greater.
What do you think are the biggest benefits of hands-on inquiry for students?
I believe the hands-on experience with authentic objects that we do it here at the ROM is impactful. It makes the past real and certainly provides students with an opportunity to connect even more with different places and times. There are so many entry points when examining an object. It is great to see students tackling it in different ways. The insight they gain hopefully will help them to be life-long learners.
Working at a museum with access to its collections might be like being a kid in a candy store for some teachers. What is your favourite part of the job? Favourite artifact?
As a teacher back at school, I discovered that I tended to use lots of visuals to support my lessons. It was only natural for me to make the transition from the classroom to the museum galleries. I feel very privileged to work in this type of environment. In the morning, I might have students look at personal items belonging to Sitting Bull in Canada's First Peoples gallery, in the afternoon; we are examining a vase depicting runners at the Panathenaic games in Ancient Greece. Given the richness of the collections, I just can't narrow it down to one object. I have too many favourites. The greatest pleasure I get from working here, beside the fact that I get to learn something new every day, is to see how students respond to the objects and reflect on their significance. Every day, I see evidence through their eyes, that the ROM is a special place.
Jacques in one of the ROM classrooms, photo courtesy of Jan Haskings-Winner.