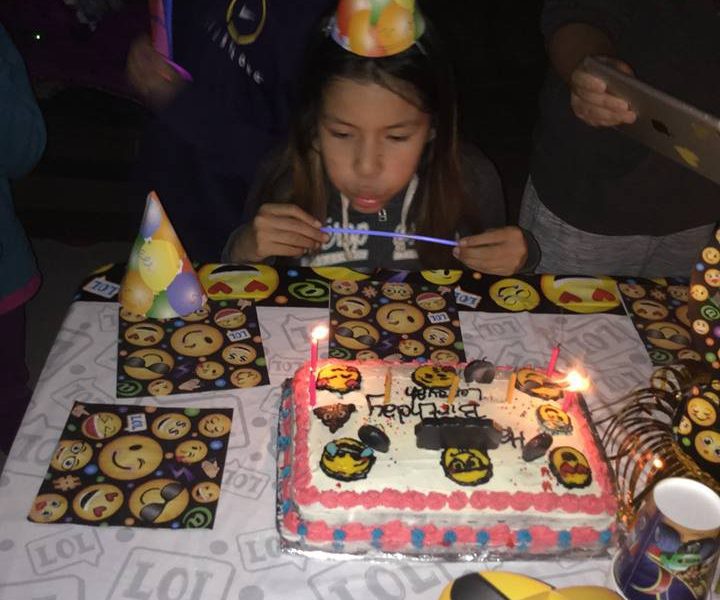 His name is Eli.
He likes Cars.
His favourite colours are blue and green.
He turns six on April 29.
He would like Rainbow Bits cake and Buttercream icing.
This is a very typical description of a young boy living in Canada. Where Eli differs from typical Canadian boys is that he lives in Pangnirtung, Nunavut.
Birthday party box contents. http://www.cbc.ca/news/canada/windsor/facebook-groups-helps-southern-sponsors-spread-birthday-cheer-to-northern-families-1.4252895
Eli became a part of my NDW4M1 class through The Northern Birthday Box Project. Run by Koreyan Petersen and her team of volunteers, the project looks to address the high costs of living in Northern Canadian communities by helping to cover the "extra" cost of hosting a birthday party for a child living in Canada's North. The group chose to focus on birthdays because children tend to attach a special importance to the occasion and not only are the supplies costly, they are also limited to what is available in their community or what can be ordered online and shipped at an even higher cost. Birthday Box sponsors are asked to supply three things: cake mix, icing, and a birthday decoration. However, a quick look at the group's Facebook page will show pictures of smiling children and boxes that contain much more.
There are two ways in which to become a sponsor, both done through Facebook. The Northern Birthday Box Project is for individuals to apply https://www.facebook.com/groups/1692466914374665/ and the Northern Birthday Box Teacher Group, which matches classes with a child and also provides teachers with a forum to discuss how they've used the Birthday Box Project in their classes https://www.facebook.com/groups/470416429991050/
Lenayah receives her birthday box. Photos courtesy of Lenayah's mom.
The first Birthday Box we participated in at George Harvey C.I. was for Lenayah, an 11 year old from Sandy Bay, Ontario. We wanted to give our students ownership over putting together the Birthday Box but weren't sure how to do that. My colleague, Amanda Drover-Soriano, wanted to involve her senior leadership students, who in turn took over the project. The students used the orange ribbon campaign in September to fundraise for the birthday box and raised enough money for three birthday boxes. The leadership students took on the responsibility of purchasing the gift and added treats. My Canadian History class was responsible for the themed decoration. I was sent to Party City with a detailed list of Emoji products to purchase. While we didn't have a structured lesson or assignment based on the Birthday Box, some very clear learning occurred. Class-long discussions developed around the issues of food security in the north, the lack of resources in Northern communities, standard of living on Canada's Reserves. The students felt connected to the young girl they were sending the Birthday Box to and eagerly awaited the day when Lenayah's mom posted a picture of her birthday party to the Facebook group.
Photo from Lenayah's birthday party.
With the Native Studies class, I took on a more formal approach in putting together the Birthday Box, much of it based on suggestions from teachers in the Facebook group. I asked that they research the community to get a sense of what living there might be like. Also, I wanted them to figure out what the cost of hosting a birthday party would be. Lastly, I asked them to create a list of the items they'd like to put into the Birthday Box, where to get the items, and the cost. I gave them $50 and asked them to provide me with receipts. This class is a little quiet, thus I wasn't sure how well working together would go over. I sat in the hall while they worked in the classroom; students never cease to surprise me – instead of going to Google, they called the Northern Store in Pangnirtung to get food prices and spoke to an employee who answered all their questions about the community (cake mix was on sale for $11.99 this week, a can of icing is $15.99). On chart paper was a list of items to buy, the cost and responsibilities for buying them. They went with a Cars theme: Cars hats and gloves, Cars toothpaste, Cars electric toothbrush, Cars colouring book, Cars school supplies, to go along with the Cars birthday decorations. Best of all, on the Smartboard was a picture of a smiling little boy, Eli. The students found that his mother had an open Facebook page and they found a picture of him, referring to it as inspiration. On a mid-March morning, I watched the students stuff every last item into the Birthday Box and place a birthday card signed by all of them on top. I'm a little worried it might be overweight for shipping (Canada Post sells flat rate boxes that ship anywhere to Canada. The large one costs $19.99 and ships 5kg). Now, we will wait for a photo to show up on the Facebook page.
This project became about so much more than just sending a Birthday Box to a child in a Northern community. For my students, being able to make a connection to a child took on a different dimension to the learning. They were no longer just learning about life in a community, it became more personal. It raised awareness and challenged my students to question the regional disparities across the country. Most importantly, it left them with a sense of pride, knowing that they had helped make a child's special day that much better.
Photo from Lenayah's birthday party.
Sue Novak is Assistant Curriculum Leader of Canadian and World Studies at George Harvey CI in Toronto District School Board. She is a past winner of the Alan Skeoch Award from OHASSTA.
For more information: