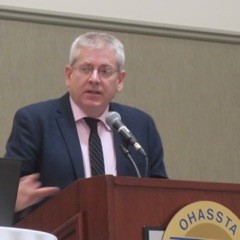 By Jessica Fulton
A New Teacher at OHASSTA
In October I handed in the last assessment piece of my postgraduate education (teaching) degree – yay! After four years, two babies and a (temporary) move to Canada from Australia, I had finally finished the key step my mid-life career change. Now that I was qualified, in addition to volunteering at local schools, I wanted to spend my last few months in Ottawa preparing unit and lesson plans, finding materials and resources and preparing as much as I could so that I could hit the ground running once we move back home. Getting started on this grand project, however, was not as easy as I had hoped. After the elation of finishing the course subsided, I found myself drifting in a melancholy fashion through that awkward space between studying to become a teacher and actually having a classroom in which to teach. For so long I had imagined my future classes, and written assignments with future students in mind. Now I had to wait until the northern summer when our family returns down-under before I could turn my imaginings into reality. Enter the OHASSTA 2016 Conference. From the passionate keynote opening to the practical workshops based on real classroom hits and misses, OHASSTA Conference gave me two days of ideas and inspiration to fuel the launch of my preparation work.
Throughout my degree I was interested in a number of themes – technology in the classroom, inquiry-based and project-based learning in history and using both historical fiction and current events to teach social studies. I used these interests to guide my workshop selections, in the hope that I could glean some real life perspectives to support the theory that had thus far been the main stay of my teacher learning.
MP Charlie Angus's opening address highlighted for me a number of similarities between the treatment of Canadian First Nations people and the Indigenous people of Australia (Aboriginal and Torres Straight Islander peoples). This gave me food for thought about how to incorporate comparative lessons into social studies classes.
My first workshop was about using Google My Maps to enhance history lessons. We examined an existing map of a Canadian soldier's World War I experience which not only provided us with an excellent demonstration of the mapping capabilities, it also (again) got me thinking about shared experiences between our young nations. Even better, as a workshop group we collectively designed our own map to test out some of the design features. Rob Barter's workshop was a good illustration about how a simple (and free) mapping exercise can breathe life into historical experiences.
The second workshop I chose concerned collaborative opportunities between teachers and teacher librarians. I realise now that as a new teacher, the library really is somewhere I should turn for assistance implementing my own ideas, and finding new ones, using both traditional resources and new technologies. I was particularly excited by the assistance that Sue Novak and Melanie McFarlane provide their school in relation to maker spaces and historical fiction and music resources!
The importance of inquiry learning was evident throughout my degree, and while I am comfortable with the concept, I am still a little hesitant about its implementation. This is why Jan Haskings-Winner's workshop on 'Inquiry in Grade 10 History' caught my eye. Jan brought with her many examples of student work, and outlined in great detail the process she undertook using her school's archives as a starting resource. Importantly she also showed us the rubrics and organisers she used to scaffold her students' learning. Jan emphasised the importance of student questioning – and a close look at the student work samples demonstrated some very interesting and even unusual questions.
One thing that never ceases to amaze me as a newcomer to the teaching profession is how generous teachers can be with their resources and ideas. This remarkable industry trait was clearly evident in Holly Richard's workshop on 'The Power of a Skill-Based Approach to Teaching Law', and Kelly Armstrong and Kelly Snyder's 'Teacher toolbox' session. Holly talked about so many ideas and resources to support student learning in law particularly in relation to developing their skills in questioning and bias, and very generously shared through Google Drive a large number of lesson plans and ideas. Most importantly, a number of us walked away inspired to be 'brave' as Holly put it, to trust our students to be able to tackle complex issues if we create a safe place for them to do so.
Kelly and Kelly took us back to school in their workshop – mini whiteboards and all, taking us through a number of fun game based and interactive activities they use to get students making connections and thinking critically. It was easy to see how their examples of Speed Dating and Triangles could be easily adapted to any year level or historical period. What was particularly interesting was that these ideas could be implemented in a very low-tech fashion.
My final workshop was based on Mike Clare's free iBook 'Freedom's Exiles – 1776' which asks students, using historical evidence, to decide whether their randomly generated character would have supported the American revolution. Resources such as this could get students thinking about bigger picture concepts such as what freedom meant to different people, and could even support flipped learning activities.
Pleasingly, the OHASSTA Conference in general reinforced much of what I have learned about teaching over the past four years. Refreshingly, no-one pretended that implementing great ideas about inquiry learning, or maintaining student engagements was as easy as the textbooks suggest. Conferences should not just be for senior or established teachers – my conference experience demonstrated to me that new starters can take away so much from being around a large group of experienced teachers, and can use this exposure to set more lofty goals for their teaching journey. I am excited to be able to take back to Australia next year so many good Canadian ideas about the teaching of social studies; and grateful for the opportunity to meet and hear from so many people who are passionate about the classes they currently teach. I hope that one-day, soon (!) I will be able to match that passion in my own classrooms.