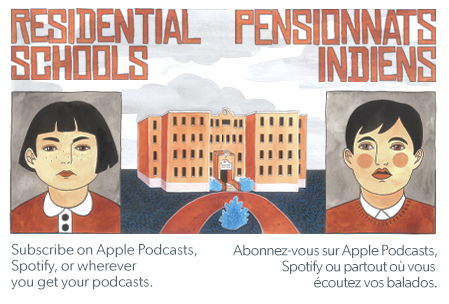 By Bronwyn Graves
With the rapid roll out of distance learning, Ontario's teachers are facing – and rising to! – challenges we've never experienced before. Online learning presents a new world for educators and students alike. With textbooks hard to come by online, teachers are turning to other resources. Historica Canada offers hundreds of free resources — all bilingual and curriculum-based. As we pivot toward online learning due to the COVID-19 pandemic, we encourage you to make use of our resources to support your students' needs.
Our materials run the gamut of Canadian history, geography, citizenship, and culture. We offer videos, podcasts, education guides, and worksheets. We also publish The Canadian Encyclopedia, the largest collection of fact-checked articles on Canadian history and culture in the world. Everything we do is free, bilingual, and available online.
We have hundreds of curriculum-based education guides that you can find and download by visiting our Education Portal. The guides, based around the historical thinking concepts, offer lesson plans on important topics in curricula across the country. Many of the activities in our education guides connect to readings, worksheets, podcasts, and videos to help students engage critically with the subject matter and to situate content within larger historical narratives. We offer guides that cover essential curriculum topics, like the First and Second World Wars and women in Canadian history. More recent additions include an elementary-level civics education guide, an update to our residential schools guide, and a guide on digital media literacy. Additional interactive resources like collections, timelines, quizzes and interactive maps, are available on The Canadian Encyclopedia.
We offer more than 400 educational videos, available on our YouTube channel. To-date, we've produced 93 Heritage Minutes, one-minute vignettes that feature remarkable people and events from Canada's past. The Heritage Minutes are one of our signature programs, but in recent years we've also expanded our video production to include a wider range of materials. Our Record of Service videos introduce students to oral history testimony, while our Think Like A Historian series builds skills to analyze and interpret primary sources. Many other videos showcase important people and events through Canada's history. Our YouTube channel is conveniently organized by playlist, so you can easily locate videos by subject matter – Indigenous peoples in Canada for example – or by program.
We now produce podcasts in addition to videos! Some notable examples are the Residential Schools Podcast Series and the Record of Service Podcast. First Nations, Métis, and Inuit experiences of Residential Schools are explored in the Residential Schools Podcast Series. The Record of Service Podcast features stories of POWs, Cree Code Talkers, female code breakers, and more.
In this difficult and challenging time, our goal is to do everything we can to best serve you and your students. Whether you're looking for engaging educational activities, videos, podcasts, or reading materials on topics in Canadian history, Historica Canada offers programs you can use to support student learning, in the classroom or online.