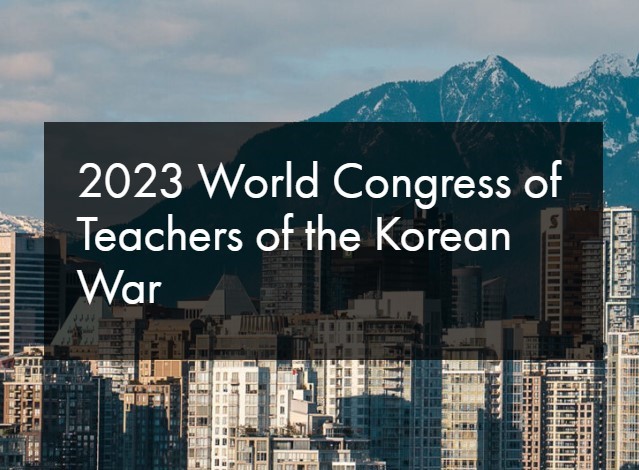 Join us in Vancouver, August 1-4, 2023.
OHASSTA, as a member-association of the Social Studies Educators Network of Canada (SSENC) is pleased to partner with The Korean War Legacy Foundation and the Ministry of Veterans and Patriots Affairs (Republic of Korea) for the annual World Congress of Teachers of the Korean War, 2023.  This event serves to recognize the sacrifice of Korean War veterans and the importance of teaching about the War's legacy in schools.
Participants in the World Congress will actively engage in the activities and instructional materials that have been developed to teach about the Korean War while also attending historic events marking the anniversary of the armistice of the Korean War.
This year's event will celebrate the publication of a new curriculum book on Canada's participation in the Korean War: Inquiry, Historical Thinking and Action. Dignitaries from Canada and Korea will join teachers from Canada, the United States, and several other international UN Korean War participating countries to share ideas on how the Korean War can be taught in the classroom.
Veuillez noter que cet événement se déroulera principalement en anglais, avec des possibilités de discussions en petits groupes en français. Les ressources présentées sont disponibles en français.
TEACHER QUALIFICATIONS
Currently teach social studies for grades 6-12.
Have a desire to learn and teach about the Korean War and its legacy.
Currently teaches a course that could include instruction on the Korean War.
Interested in continuing the work completed at the conference through a fellowship or special project.
If accepted, teachers are required to type a transcript for one of our interviews, create a profile for THE 22 – Korean War International Legacy, or write a lesson plan that can be featured.
REGISTRATION
$100 CAD Registration fee is required upon acceptance.
Single occupancy hotel rooms will be provided from August 1st through August 4th. Rooms with two double beds can be requested, but not guaranteed. Check-in time is 4:00 pm and check-out is noon.
Participants are expected to attend all meals and events. Guests are not permitted to attend any program-sponsored events/meals.
All meals will be provided on August 2nd and 3rd. Meals will not be provided on August 1st & 4th.