---
Previous webinars: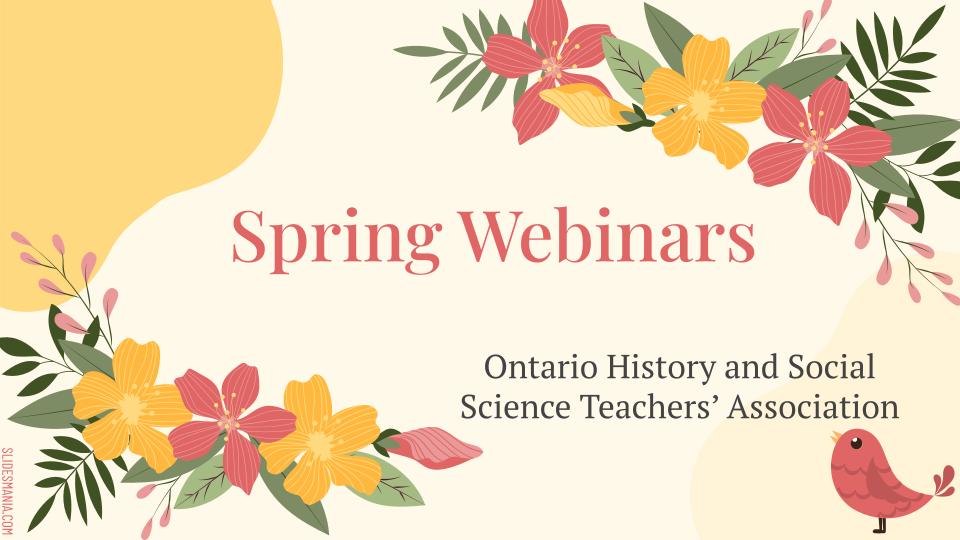 ---
Student Vote, Student Voice
Engaging Students in the Ontario Provincial Election 2022
May 4th, 2022, 4 pm
Christina Ganev, Director of Education
Student Vote is a hands-on learning program that brings democracy into the classroom and helps foster the habits of active and engaged citizenship. Students learn about government and the electoral process, and explore the issues, parties and candidates through classroom activities and media consumption. On Student Vote Day, students cast ballots for the official election candidates running in their school's electoral district. The Student Vote results are shared publicly on election night.
This session will provide an overview of the program for the June 2022 provincial election, and practical tips for organizing Student Vote for your school.
---
Korea on the Rise: Democracy and Economy
Erin Ledlow, Jim Pedrech, Shannon Simpson, Leigh Macdonald
Ready to use lessons developed by expert OHASSTA educators on the history of Korean democratization and economics. As we know from the overwhelming popularity of BTS and Squid Game, there is no doubt that Korean culture is interesting and important to young people in Canadian classrooms, but very little about Korea is explicitly taught. A team of teachers from the Ontario History and Social Sciences Association, in partnership with the Korean Cultural Centre of Canada, has sought to change this. In this webinar, you will be introduced to two ready-to-use modules: The History of Democratization in Korea and the Korean Economy. Each module contains four lesson plans that can be used alone or as a series in any History, Civics, Politics, or Economics class. Each lesson offers a variety of rich primary source material, engaging interactive activities, and teacher background information so educators have everything they need to start teaching this material immediately.
Disrupting the Power in Assessment
April 6th, 2022, 4 pm
Megha Raj, Peel District School Board
Identifying where power structures are held in schools, how they are upheld through assessment, and how Educators can disrupt power structures in assessment. This webinar will begin by looking at the codes of power that are evident in our schools and system and how the codes are used to oppress Black, Indigenous, and Brown learners. We will specifically look at assessment and how assessment is used as a way for Educators to uphold the power imbalances within the education system. The webinar will end with sharing how learners can be given agency and ownership in assessment through the use of assessment tools (Learning Maps, single point rubrics). Registration to come