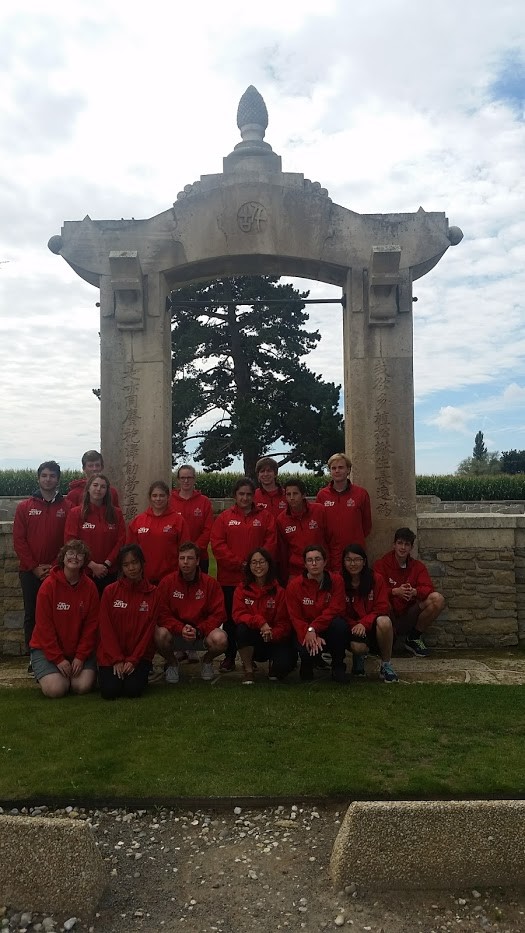 By Rachel Collishaw
In the summer of 2017, I was one of the chaperones on the Beaverbrook Vimy Prize trip – a remarkable experience funded by the Vimy Foundation and open to exceptional students from across Canada, England and France, through a rigorous application process. Over two weeks we had many moving and sad experiences in cemeteries and at museums and monuments in England, France and Belgium. We asked questions constantly, and developed our historical thinking through conversation with each other, and with historians and museum curators, by engaging with monuments and cemeteries and unpacking their histories and purposes.
The experience we had at Noyelles-Sur-Mer cemetery in northern France was uniquely moving and surprising to most of us. Originally the site of the largest Chinese Labour Corps camp, and their General Hospital during the First World War, it contains the graves of over 800 men of the Chinese Labour Corps.
A gravestone at Noyelles-Sur-Mer. Photo by Rachel Collishaw
For several students of Chinese origin on the trip, this was when the First World War seemed to become more real to them. Alisia could read the Chinese characters on the gravestones and told us that most of the men were from the same small villages. She critiqued the translations of the epitaphs, and we wondered why men would make such a long journey to serve in a war that must have meant little to them. We also noticed that most of the graves were dated 1919, and we wondered what their work had entailed after the war, and if they had been victims of the Spanish Flu so far from home.
Alisia Paq Pan at Noyelles-Sur-Mer cemetery. Photo Credit: Hanna Smyth, Vimy Foundation 2017. Photo from the Beaverbrook Vimy Prize Blog August 16, 2017
Sometimes when I've seen a map of the Western Front, it seems so small, and I have often wondered – why is this called a World War? Standing in that cemetery, it was impossible to ignore the global impact of the war, and the imperial ideology that caused it.
Between 1917 and 1919, over 100 000 men were brought to France through an agreement between the UK and China to work behind the lines. Some 2000 of these men died in this work, with the majority buried together at Noyelles-Sur-Mer. What is less well-known is that these men were secretly shipped overland across Canada.
Canadian filmmaker Jordan Paterson has made a full-length documentary about this journey called Tricks on the Dead: The Story of the Canadian Labour Corps in WWI (2015). It has won several awards in Canada and China. There are two versions for the classroom – 60 minutes or the full length 95 minutes, which can both be viewed for free for educational purposes by contacting Paterson himself. Even just viewing the trailer with your students can inspire many inquiry questions and spark investigation into the participation of colonial and global troops in what we often think of as "just a European war."
The film itself follows Zhang Yan, a Chinese history student from the same Shandong villages as the Chinese labourers in WWI. He travels from those villages, across Canada and to Europe where he retraces the steps of the labourers a century ago.
'Tracing the journey of the Chinese labourers Zhang Yan uncovers the largest mass migration cover up in Canadian history. In 1917, 85,000 Chinese labourers were secretly transported across Canada by locked and guarded train during the Chinese Head Tax period. These men were then shipped to Europe where thousands died labouring on the Western Front: working in shipping yards, digging trenches and clearing the dead.' (Rare Earth Media, 2017)
I particularly liked how the film follows the young Chinese historian through his process of uncovering the past, and his quest to show the agency of the workers. All of the interviews were engaging; in one interview, a historian points out that this was the first large-scale encounter between Europeans and Chinese people, and why that should be significant for all of us today.
There were many dramatic sequences, which I think will help our students to connect with and to humanize the people from so long ago. I think that the film will have a lot of resonance with many students in grade 10 history classrooms, especially those of Chinese origin or ancestry, but it is an important story for all of us to hear. If you are looking for ways to make teaching the First World War more relevant to your students, this might be a good starting point.
The main website for the film contains great shots from the documentary that can be used as thinking prompts, as well as a fantastic collection of primary source images to explore. Let me know if you are using the film or resources. You can always find me on Twitter @rcollishaw and share with the #ohassta hashtag!
If you want to watch Tricks on the Dead, you can download, stream or get it on Blu-ray for free for educational purposes by contacting the filmmaker Jordan Paterson.
He has another fantastic award-winning documentary called From C2C: Chinese Canadian Stories of Migration which will soon be available on BC's Knowledge Network. It would definitely fit well in a social science as well as history classroom. It presents a thesis that racism, or white supremacy, was a foundational ideology of Canada. He explores the many negative consequences of that ideology for the Chinese-Canadian communities not just in Canada, but also in China, particularly during the long separation of families due to the Chinese Exclusion Act (1923-1947).
View of the French countryside from the Noyelles-Sur-Mer cemetery. Photo by Rachel Collishaw
Rachel Collishaw of Ottawa-Carleton DSB is OHASSTA president.