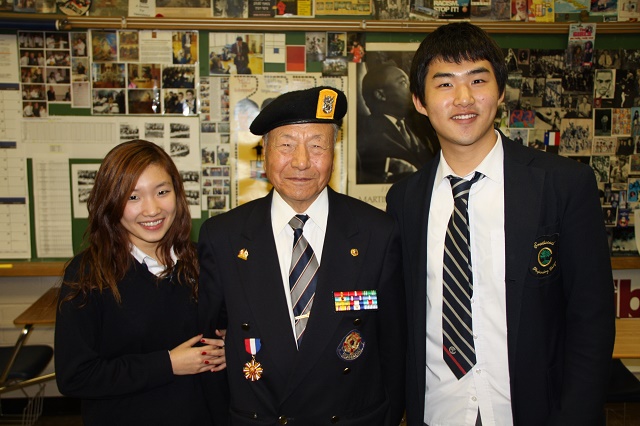 By Scott Masters
Henry Chu with Amanda Lee and Max Ahn (courtesy of Scott Masters)
History never stops…and it's not just the big events that make up history. Everyday people living their lives are part of history – at times they endure unspeakable trauma, but they also live through uplifting times, and they make sacrifices that shape their personal history and the larger collective narrative. That's what the Crestwood Oral History Project (COHP) is all about – connecting to those stories by speaking to the people who lived them. People like to tell their stories – it's a basic human trait – and Crestwood's approach is storytelling by another name.
Students can learn about history in so many ways – books, documentaries, movies – and there's nothing wrong with these. But technology evolved dramatically – and it has changed our students. Educators recognize that, and are on the lookout for new ways to connect with students. An up close interview between a small group of students and the people who were lived through history's moments, one that can be edited and digitized for a global audience, is the hands-on method that Crestwood's Scott Masters has chosen as his focus. It begins with the students' own questions and the process of inquiry that is at the heart of education.
The Crestwood Oral History Project is a program where students take on the role of historian, interviewing and chronicling the experiences of either a family member or someone in the community. Mr. Masters encourages students to use their skills from many areas – prose and poetry, artwork, music, information technology and so on – to produce a digitally edited video interview that will be incorporated into Crestwood's webpage at http://www.crestwood.on.ca/ohp. An important step happens when students look at the subject's old photos, and learn that a picture really is worth a thousand words. They also learn that the 90 year old across the table from them was once a teenager too.
The interview is just a part of the project, much of which is based on traditional/online research. Students use their subject's story as a portal to the larger historical events that were taking place. Researching the history forces students to develop their internet literacy; studying the wartime period for example also lets students learn about the potential for the abuse of technology, as they are inevitably exposed to the dark side of the online world, sometimes without recognizing it. Projects on Holocaust survivors can take unwitting students in the direction of denial and hate websites all too quickly; this project helps students to develop that discretion.
So how does Crestwood do this? They have visited Baycrest and Sunnybrook hospitals in Toronto many times, and have reached out to local Legions, to cultural centres, and they visit people in their homes. Community outreach and service have always been part of the COHP. It is a means of connecting to the community, and a great intergenerational conversation. Mr. Masters grew up talking to his grandparents. He, along with his colleague, Mr. Jason Hawkins, focus on the World War II era as it is a universal event for the generation that lived through it, and it is important for the students' generation to speak to these people while the opportunity is present. As a truly universal experience for all involved, the war is a good reference point where students can learn how one event can produce different perspectives.
The Crestwood Oral History Project – now at over 400 archived interviews – has evolved into something substantial from a simple idea. And there are so many unintended consequences… for many senior citizens it has taken on a therapeutic character. For example, Reuven Bluim, a Holocaust survivor from Lithuania, kept his story to himself for many years, and as he now opens up and shares, students can sense his unburdening – he wants them to become the next generation of witnesses, and he wants to be remembered.
Jule Nussbaum with students Zack Martin, Brandon Michael, and Dov Houle (courtesy of Scott Masters)
In this way, the interviews can highlight big questions. The students confront these issues head on, and in a small group setting they are much more inclined to say what is really on their mind. And it has ended up being a great firsthand exposure to gerontology – many students have not have not really dealt with people in their 90s before, and they have to navigate areas like mobility, memory and hearing loss. In talking to people who went through an ordeal, students see the emotional connection – it contributes to learning that goes beyond the academic and intellectual. It can be cathartic and empathic for all involved.
Where they are able, students conduct interviews and do research into their own family history, a process that creates real bonds between the students and their subjects. Many students and parents comment that they learned things they never knew about their grandparents – one former RCAF navigator admitted to dating a bishop's daughter while stationed in England!
An ongoing evolution of the Oral History Project has students interviewing people from Toronto's many diverse communities, including the First Nations. Many of the interviews connect to issues that are relevant to Canadian culture and the larger context of social justice. Language and culture can be barriers, but as Toronto is a multicultural environment, students of various backgrounds have been able to break through, interviewing people in their first languages. Mr. Masters also just took the COHP international, as he just participated in the summer 2017 Alpha Education Peace and Reconciliation Tour. Along the way he visited students in China and Korea, and they helped with interviews and translation duties.
The Crestwood Oral History Project is continuing…as long as history teachers teach about the people who made history, the door is open to talk to those who were there. The students and teachers will hear some great stories along the way!
Scott Masters is Head of Social Studies and Director of the Crestwood Oral History Project at Crestwood Preparatory College in Toronto.