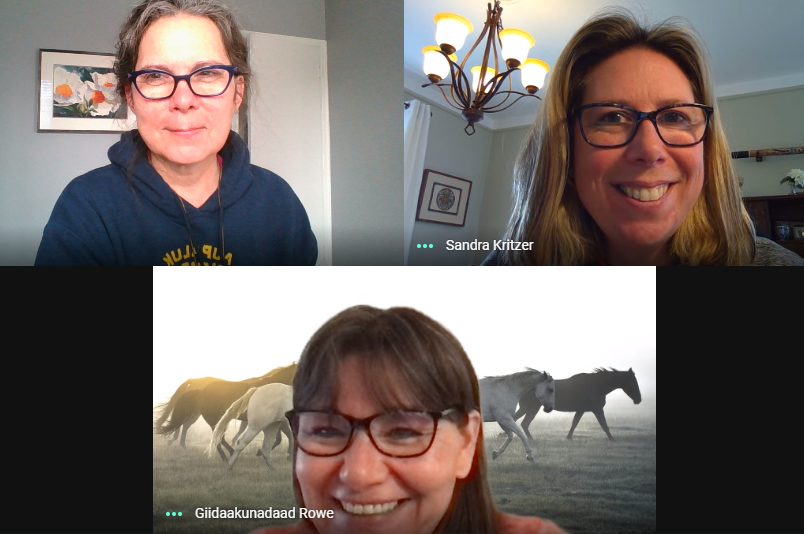 By Sandy Kritzer, Edited alongside Nancy Rowe
Here's the challenge: embed Indigenous histories and ways of knowing in meaningful, authentic ways into a curriculum that was written within a colonial context by settlers. The Truth and Reconciliation Commission's Calls to Action are clear that teachers need to do this work immediately to stop the continued harm of Indigenous students. This is difficult, deep, long-term work, and as a White educator and curriculum leader I can't – and shouldn't – do it alone.
Recently I began the work of reconsidering the Law curriculum alongside my board's Indigenous Education Lead, Colinda Clyne, and a longtime community partner in education and local Anishinaabek Education Consultant Advisor, Nancy Rowe representative of the Mississaugas of the Credit. I'd like to share my reflections on our process so that others might also do this meaningful work in a good way.
We began in conversation, building relationships and trust. These conversations often take place for an entire morning, and we've been able to meet a number of times now. It might seem like a lot of time and a lot of work up front but having had these conversations for a couple of months now, I realize that nothing can replace the learning and sharing that has occurred during these online meetings. Nancy has shared knowledge about Indigenous truths about significant federal and provincial laws, the terrible impacts of the Indian Act, and Anishinaabek legal concepts. I've shared how teachers have approached the course and Indigenous subject matter in the past, and Colinda and I sometimes translate 'eduspeak'. What has resulted is a relationship, a coming-together in the true spirit of learning, sharing and helping – I think that's at the core of reconciliation work. So one recommendation is to reach out to the treaty partner(s) and local community partners who are experienced in supporting educators. The board's Indigenous Education Lead should have contact information.
To begin the actual work of reconsidering the curriculum, we went back to the document itself. Colinda and I pulled out any expectations that specifically mentioned Indigenous content as well as those that relate to them. Nancy was then able to explain what was problematic, and sometimes completely wrong, and to suggest either new content or share histories to give context. There's so much that's either different or completely new to the teaching that I received in school. Her teaching is also pushing my thinking about colonialism and how to decolonize our curriculum, teaching strategies, and approaches. I'm also seeing connections to what I've been learning about culturally responsive and relevant pedagogy in terms of valuing student voice and experience. But what is happening with Nancy goes beyond CRRP in terms of anti-colonial work.
Once we finished discussing the curriculum we turned to what is essential for teachers to know and what learning opportunities might look like. We'd like to do a series of learning sessions for teachers, including lesson writing opportunities. We will begin with an introduction this spring that includes historical teaching because it gives context to so many of the problems in the document. We'll also offer lesson planning suggestions including a sample lesson so teachers can leave with really practical suggestions for how to begin their own process of embedding Indigenous education into their courses. Our plan is to continue this learning in a second session where teachers can come back together and share what they tried and what they've learned, and we can go deeper into more learning about what Indigenous education looks like. However we also want to continue with teachers next year – fingers crossed – when they can come out to Nancy' Lodge and go deeper into other teachings that she can offer there. This is not a fast process, nor should it be. Learning takes time. Relationship-building takes time. Lasting change takes time. I'm already seeing in myself the shifts that can happen when we are able to take the time for deep conversations and emotional learning. So I think it's up to system leaders like myself to do this work, to recognize its value and then to provide meaningful opportunities for others to do the same.
I'll continue this column in another couple of months once I'm able to share how the next steps in our process have gone. I hope you'll find meaning and relevance in these reflections and join me again soon.