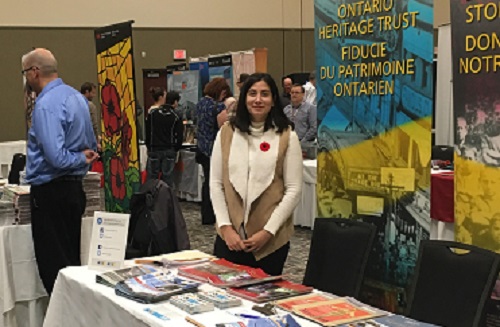 Doing History: Profiles of people working in the area of history. Please share with your students.
Risa Gluskin e-interviewed Madison Hamilton in March, 2017.
You work at the Ontario Heritage Trust. I'm told you've done work with the Public Education and Community Development team. What is the Trust? What is your specific job?
The Ontario Heritage Trust is a non-profit government agency with the Ministry of Tourism, Culture, and Sport dedicated to promoting and preserving Ontario's built, cultural and natural heritage. The Trust is a fascinating organization to work for because of the diversity of the initiatives it is engaged in throughout the province. The Trust's initiatives reach 379 of Ontario's 444 municipalities through lands both owned and protected, Doors Open Ontario, provincial plaques, museums, and recognition programs.
I'm currently contracted as a Heritage Programs Coordinator. A significant portion of my job involves the planning and development of our programs including Doors Open Ontario, Heritage Week, our sesquicentennial project MyOntario: A vision over timeand a special edition of our publication Heritage Matters. I also assist with our recognition awards programs which include the Lieutenant Governor's Heritage awards and Young Heritage Leaders. These two programs celebrate individual and group youth achievements in heritage. In addition, our Young Heritage Leaders scholarship program awards a $2,000 scholarship for post-secondary education to an individual young person who has demonstrated leadership in preserving, protecting and promoting heritage.
What's your educational background?
I hold an Honors BA in History and Classical Studies from the University of Ottawa and an MA in Public History from the University of Western Ontario.
How did your high school history classes prepare you for university?
Studying history in high school allowed me to gain invaluable research and writing skills that prepared me for my university classes in the arts and social sciences. Once I began my studies in university I developed new skills and knowledge with regards to structuring and organizing an argument, finding and using primary and secondary sources and managing my time effectively.
One important skill that I learned in going from high school history classes to the discipline of university studies was the ability to form and convey a powerful argument in a succinct fashion. I remember specifically a teacher who often made the class write one page essays. It seemed very odd to me at the time I guess, because as History students we tend to think the more we write and explain our thoughts, the better. At the time I found this extremely frustrating but in future projects this became an invaluable skill. The modern presentation of our history to the public, whether it is through the writing of text panels or digital content, requires strong and engaging presentation of information and thought.
What are some important skills you think today's high school history students should focus on if they wish to pursue a career in a history-related field?
My best advice for aspiring heritage professionals is to diversify your skill set. Consider how conserving and promoting heritage is evolving and plan for what might be important skills in the heritage field in the future. Having strong skills in research and writing is important, but as a heritage professional you will be educating and informing, working with other professionals, organizations, volunteers and the general public and you will benefit from developing skills and knowledge to work effectively with this cross section of stakeholders. Having the ability to communicate, problem solve, and work within a team environment are important skills to develop and are easily transferable skills.
I found volunteering at local museums gave me a better understanding of what I enjoyed and the skills and knowledge I had to develop. I also spent time meeting with staff members in positions I was interested in learning more about, and getting a sense of the journey they travelled to their career path, not only their educational background but also the experiences that they had.
What are some transferable skills that you've developed working at the Ontario Heritage Trust?
Through my experience working at the Trust I have had the opportunity to develop a number of transferable skills including leadership, communication, and planning skills. I've really enjoyed applying some of my research abilities, not just for historical purposes but also for developing and coordinating programs, creating plans, and implementing events for the public. From my earliest experiences in elementary school, visiting museums and participating in Historica, I've always been passionate about heritage studies and very intrigued about working in the heritage field. Working with the Trust has allowed me to apply my passion and opened new doors of learning and experience with regards to heritage education.