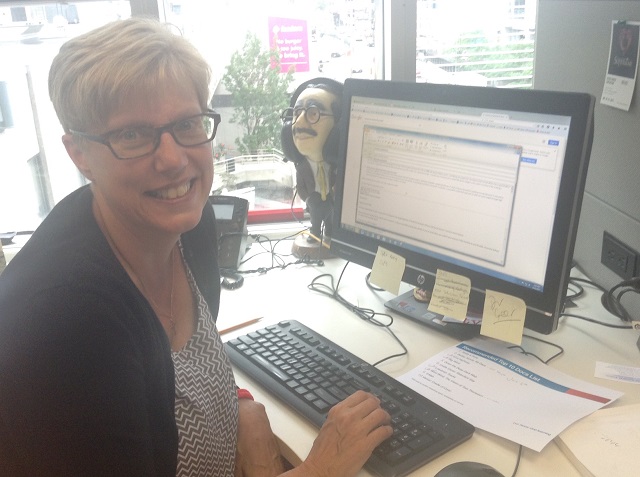 How did you come to work in acquisitions in the broadcasting field?
I've worked in acquisitions and programming at TVO for fifteen years. Before that, I worked in the Ontario Centre of the National Film Board of Canada, where we often partnered with TVO both officially and informally. Having spent five years working in a documentary production environment, it seemed a natural progression to this position, with its emphasis on factual and documentary programming.
Do you think history has the power to connect young people to the world? How so?
Absolutely! One of the guiding principles of TVO's current strategy regarding history programming is to focus on acquisitions that help explain how we got here from there. In other words, programming that explains the current world situation through the lens of history. For example, the 3-part series, The Ottomans: Europe's Muslim Emperors traces the rise and fall of one of the world's most influential empires, with particular emphasis on how the collapse of the Ottoman Empire and the subsequent carve up of its lands sowed the seeds of many problems that still haunt us today. Our "living history" series like Victorian Farm and Wartime Farm connect a younger audience to a different time period by showing in a real way what it would be like to live in another era. I think the combination of explaining today through the past, and understanding yesterday through a contemporary lens is very powerful.
How do you determine what is "of national and international historical significance" when selecting documentaries?
Sometimes significant historical events determine what acquisitions we pursue – the anniversary of WWI and WWII battles, for example – particularly those with significance to Canadians; or events that were defining moments in the evolution of nations – for example the 3-part series, 1916, about the Easter uprising in Ireland and the upcoming Empire of the Tsars about the Russian revolution. I have a particular interest in programs that either use new scholarship to explore events we think we already know – for example, The Somme, which had access for the first time to the German archive; or "hidden history" about places or events that are not, perhaps, as well documented. The 4 part series, Africa and Britain: A Forgotten History told a story that dated back from Roman times and reclaimed a forgotten 2,000 year history of black settlement in Britain. I am personally interested in several areas of history (although I try not to let my personal interests outweigh TVO's strategies!) so a film like Last Days in Vietnam was a "must-have" for me, as was the recent documentary, Bobby Sands: 66 Days, which explored a seminal moment in Irish political history.
For you, where is the line between education and entertainment in broadcasting?
I feel we have a strong sense at TVO of where that line lies, particularly in factual programming. Several years ago, when living history was in its heyday, we were offered a series that took place in English country house in the 1700s. However, it soon became apparent that this was a dating show rather than a history series as the producers seemed overly interested in which characters would hook up! Which isn't to say that we don't acquire more populist or entertaining series. One of my favourite shows was The Quantum Tamers about quantum physics and another was a series, The Story of Maths. Both used all kinds of visual tricks and treats to explain some really complex concepts, and both were a lot of fun to watch (although, even after watching the series at least three times, I'm still math-challenged!) We are wary when the "fact" in factual entertainment is overshadowed by the "entertainment" aspect. Our educational mandate is always at the heart of our acquisitions strategy.
What are your top 3 favourite history documentaries acquired by TVO?
You know you are asking me to choose between my children?
The First World War – we have acquired and co-produced several series about WWI – but this was one of my first acquisitions at TVO and we were able to join the project at an early stage in development. Based on the book by Professor Hew Strachan, the 10 part series not only brilliantly contextualized the war from a truly global perspective (reminding the viewer that this wasn't just a European trench war), but it also showed how other concurrent events fit into the narrative – the Russian revolution; the Armenian genocide, the Easter uprising of 1916, were all part of this series. I love history programming that connects the dots. This is still one of the most powerful and comprehensive series about the First World War I have ever seen.
Lost Kingdoms of Africa – this four part series, presented by historian and art expert Dr. Gus Casely-Hayford, uncovered a forgotten history of pre-colonial Africa in Sudan, Ethiopia, Zimbabwe and Mali. This, and the second series, revealed a true history of Africa and its extraordinary ancient civilizations. These were empires of spectacular learning, art and culture, and I think series like this help to reverse entrenched false ideas of the history of the continent as well as exploring places and people often overlooked.
Secret Iraq – a two part series that systematically deconstructs what really happened in Iraq after the occupation of the country by coalition forces. I love modern politics! And I love programming that uncovers the real story behind recent or historical events. Hindsight is 20/20, but some of the decisions made during this conflict were short-sighted to the point of being catastrophic. The story is told from both sides – something else I value in history programming.
(It breaks my heart not to include several series specifically on the history of women; series that explore cultures through their art works; the living history series that resonate so much with our viewers; The Love of Money – one of the best programs I've ever seen to explain the financial crash of 2008; our ancient history series… everything we acquire for our history and current affairs strands has a special place in my heart! It is also very moving to be able to broadcast series like Exodus: Our Journey to Europe – a multi-award winning series about the Syrian refugee crisis, our very sad history in the making.)
What was your high school history experience like?
I grew up in England – so my experience won't likely equate with the Canadian system. I distinctly remember wondering why my 'A' level in history focused on medieval Europe because it seemed so irrelevant. But medieval history is now one of my personal areas of interest, so something must have resonated! I remember a somewhat scattershot approach to what we were taught through high school, but I doubt my experience is relevant to today's curriculum.
Christine at her desk at TVO.
Editor's note: this will be my last "Doing History" post. Over the summer I will work on creating a lesson plan for students to use all of the interviews. If you've enjoyed "Doing History", or have any ideas for interviewees, please let me know at risa@cabal.org.