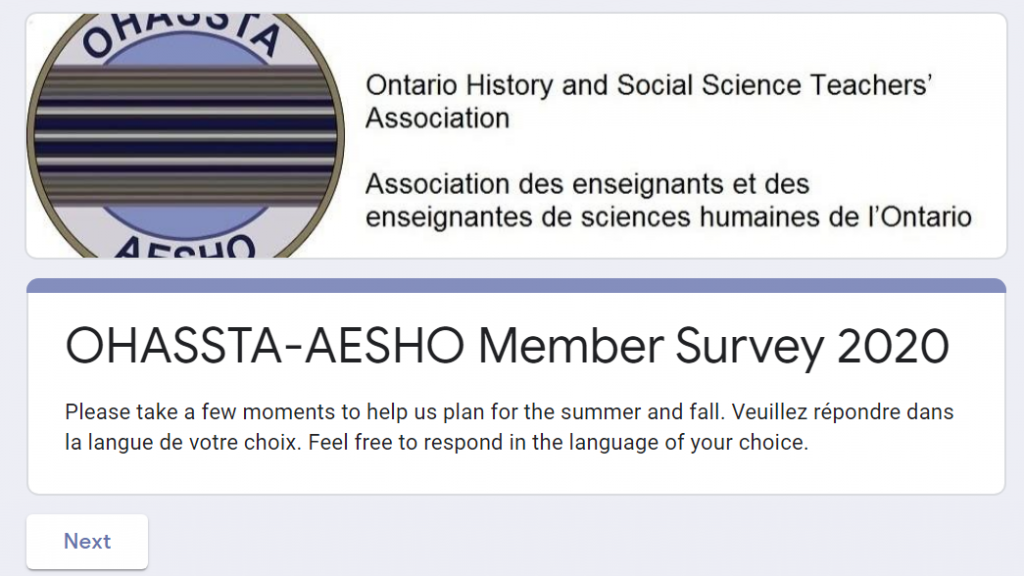 How can we support you?
Do you want more webinars through the summer?
What about an OHASSTA-AESHO virtual summer institute?
What do you expect out of a fall virtual conference?
Our team of volunteers on the executive has been busy learning how to provide high quality virtual professional learning experiences and we need your input to make sure we keep doing it right!
We hope you will take 5 minutes to let us know what you think.
We've got lots of ideas for summer webinars and learning series and we want to know what is most important to you so we can best use our time and resources.
Our fall conference themed Hindsight 2020, will now be virtual for the first time ever, and we are looking for your input to help us plan a meaningful experience where you can discover new resources, learn from each other and connect with history and social science teachers across the province. Look for our call for presenters soon and get ready to put your best ideas forward!
Pour les membres d'AESHO, veuillez répondre au sondage dans la langue de votre choix. Nous souhaitons vous soutenir aussi! Si vous voulez offrir une webinaire d'été, ou si vous avez des idées à propos du congrès, c'est le moment do nous les partager!